Selama beberapa hari terakhir beberapa baru Linkin Park tidbits berita terkait telah muncul online. Check them out below: Check mereka di bawah ini:

Baru hidup EP on iTunes:

iTunes telah memasang sebuah EP, yang terdiri dari rekaman live dari 6 lagu yang dilakukan tahun lalu di Madrid. Bernama, A Thousand Suns: Puerta de Alcála (Live), Anda dapat memeriksa karya seni dan tracklist di bawah ini.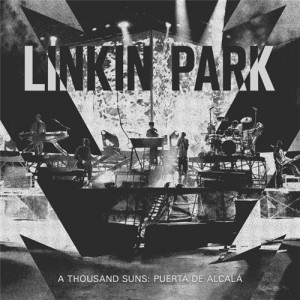 New Divide (Live In Madrid)
Waiting for the End (Live In Madrid)
Breaking the Habit (Live In Madrid)
The Catalyst (Live In Madrid)
]In the End (Live In Madrid)

]
What I've Done (Live In Madrid)

S
Linkin Park soundcheck Pada Sunrise:
MTV.com memiliki posted a video dari band melakukan soundcheck untuk Sunrise, menunjukkan FL mereka.
Klik DISINI untuk menonton video.
Pembicaraan Chester Tentang Bermain Stadium Dibandingkan dengan Tempat yang lebih kecil:
"Bermain di arena mungkin adalah mungkin skenario terbaik untuk band," menyarankan tahun vokalis 34.
"Anda mendapatkan segalanya di lingkungan semacam itu -. Ada sebuah keintiman yang dapat Anda masih memiliki dengan penggemar ada sisi, sehingga banyak orang dapat berada di sana - serta cara yang suara semuanya bekerja. Dan Lampu , produksi - Anda benar-benar mendapatkan asyik dalam pelaksanaan sebuah band, dan bahwa, bagi saya, adalah skenario yang ideal.
"Ketika Anda turun ke lokasi yang lebih kecil, Anda mengalami banyak masalah ... terutama bila Anda memiliki enam orang di band dan semua omong kosong kita harus membawa sekitar. Ada keintiman untuk itu juga, tetapi Anda pasti harus bekerja ... Tapi kita semua suka bermain tempat yang lebih kecil dan memiliki orang yang tepat di wajah Anda.. Tidak ada yang cukup bahwa seperti pengalaman, juga "
"Jadi saya pikir mereka berdua benar-benar hebat, tetapi Anda dapat memiliki acara yang lebih baik dalam arena, bahkan jika itu adalah band yang buruk. Ini hanya semacam pengalaman yang lebih baik."